Black Friday is almost here so it must be Christmas shopping season. With impending festive shin-digs on the horizon, here's my guide to ten gifts for the PR practitioner in your life. Secret Santa, we've got you covered.
1 ) Best. PR Intern. Ever. T-Shirt, £12.49 – £14.99
For the shining star in your comms team, this t-shirt comes in men's, women's and kid's sizes and a choice of black, blue or red.
 2) Keep Calm I'm A Public Relations Officer Mouse Mat, £4.99
Calm down Colin, it's only a crisis.
  3) Public Relations Officer by Day, Ninja By Night Apron, £15.50
By day, he's the Senior PR Officer for a local authority, by night he's a Sushi Ninja. Perfect.
 4) The West Wing, Season 1, £8.99
Everything you need to know about American politics and political communications all wrapped up in fabulous drama. C.J Cregg is the Press Secretary we all wish the actual White House had.
 5) I Love PR Cupcake Toppers, £2.99
The office baker will love these cute edible rice paper toppers. Cake anyone?
 6) I Can't Keep Calm I'm Studying Public Relations Mug, £6.99
PR EXAMS ARE COMING. ARGH.
  7) Myths of PR, £12.64
A genuinely interesting and funny read with insights into the industry for practitioners from entry-level to the board room.
8) Great Ideas Cunning Plans Notebook, £6.00
Get your colleague's creative juices flowing with their own book for jotting down their idea gems.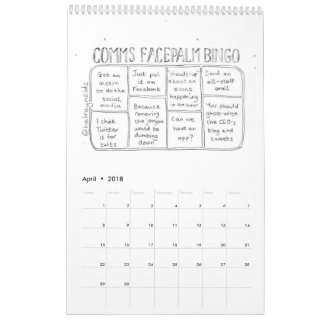 9) The CommsCartoons calendar 2018, £25.00
By the brilliantly funny and talented Helen Reynolds. You'll facepalm until your hand bleeds.
10) Touchscreen Gloves, £8.99 – £9.99
Because social never stops.